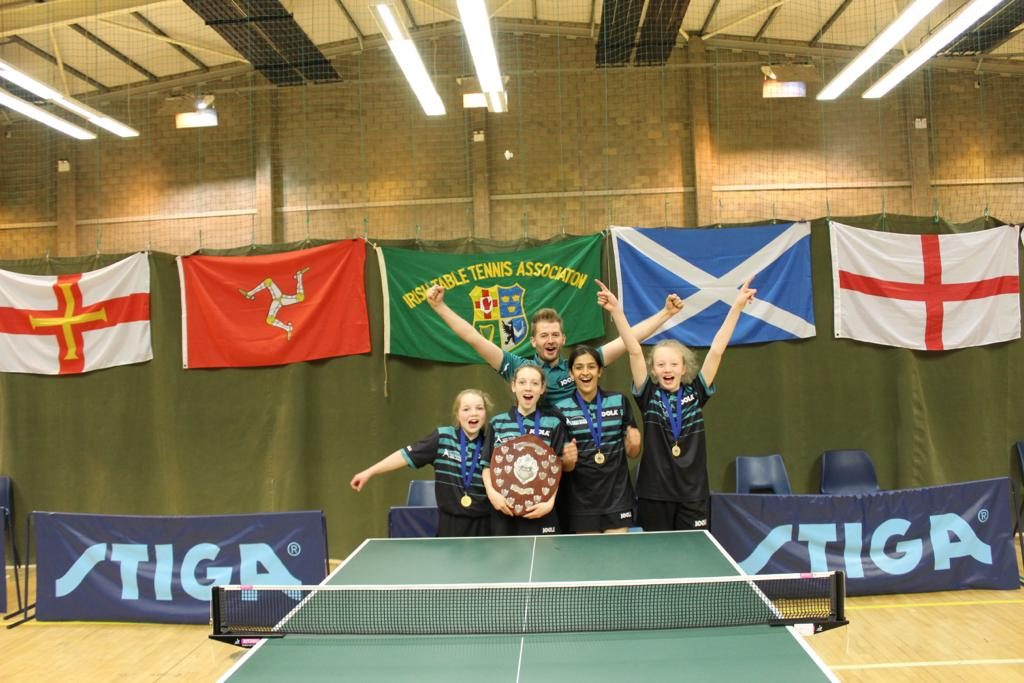 Alice and Grace Looney, Anjali Singh, Lily Smith, Matthew Mooney, Senan Sheridan, Troy Lucas and Patrick Young were the 8 happy young Ormeau Stars who all earned the right to represent Ireland in the Primary School Championships held at Lisburn last weekend. We as a Club have been working tirelessly with our youngest talents this season and are incredibly proud of all 8 of them!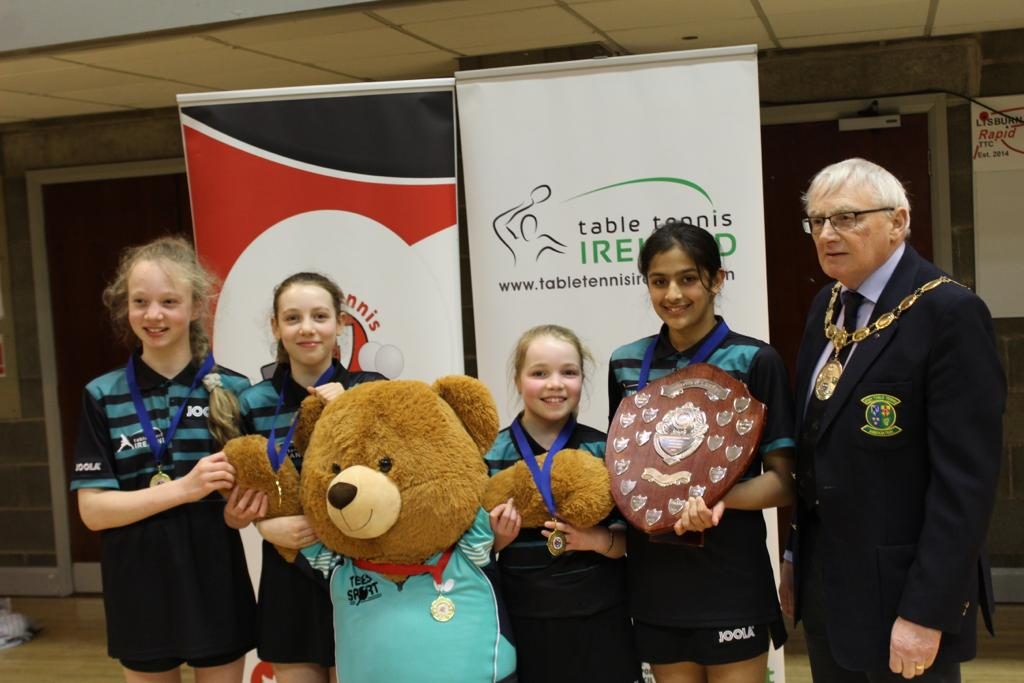 The Irish Girl's team was Coached by Keith Knox and consisted of Alice, Grace, Anjali and Ruta. The girls started very well and defeated Wales 7/3, Scotland 10/0, Gurnsey 10/0 and an Ireland Mixed Team 7/3. This Tournament was ultimately going to be decided by a Sudden Death fixture against the mighty English who have a large full time staff in their powerful organisation, surely this would be a good experience for the girls and nothing more.
Guess what? The girls played like they had never played before, were applauding each others every winning point and played every shot like their lives depended on it. Keith basically couldn't believe what he was seeing and actually had to keep his emotions in check at times, he was one proud Coach. Needless to say you have probably guessed that they won the fixture 6/4 to become the Primary School Champions 2019. We are particularly proud of the girls level of play, fight and determination, to win under home pressure is no mean feat.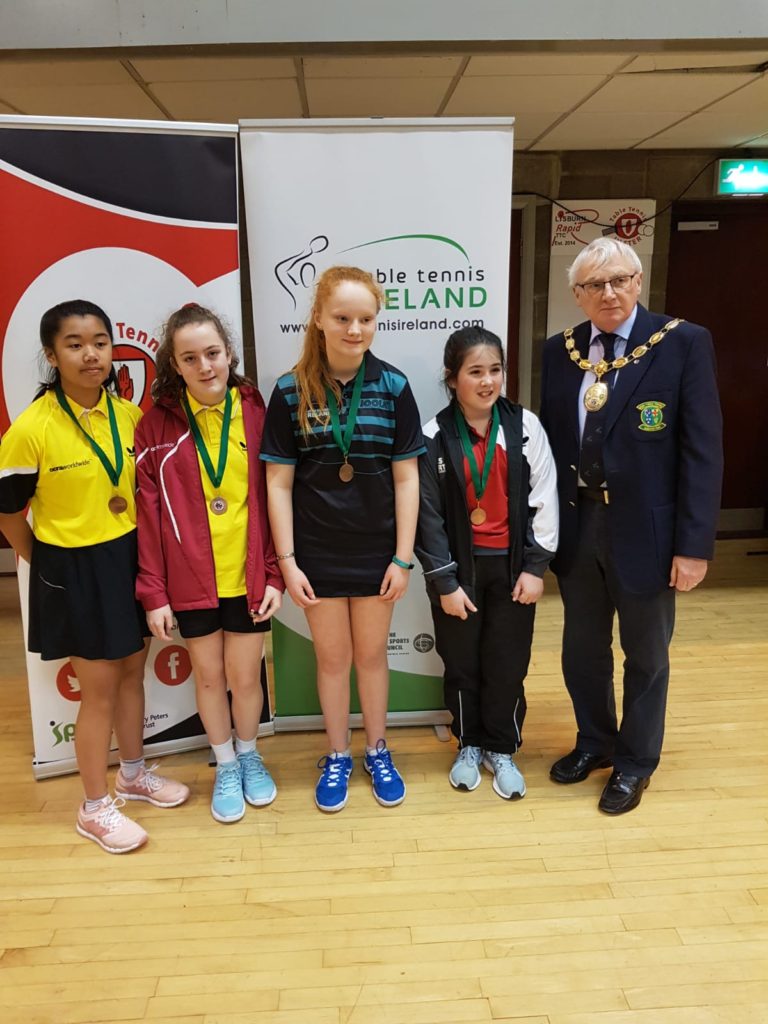 Big shout out to Lily Smith who represented Ireland in the Mixed team along with other players from Jersey and the Isle Of Man. Lily played very well and her team finished in 5th position.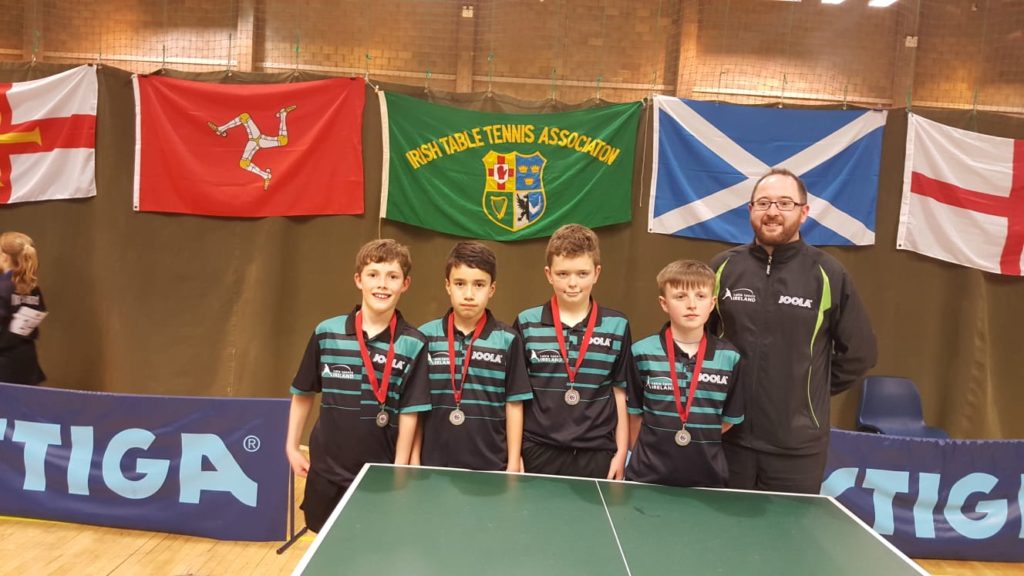 In the boy's team Matthew represented the Irish A team with teammates Fionn, Shaun and Aedan along with the coach Gervis Knox. Matthew and his Irish team fought hard beating Scotland 9-1, Wales 9-1, Isle of Man 10-0, Ireland B 9-1 to also set up a final clash against England. Unfortugently for the boys after showing some great resilience they were unable to break through a strong English side who took the win and Gold with a 7-3 scoreline.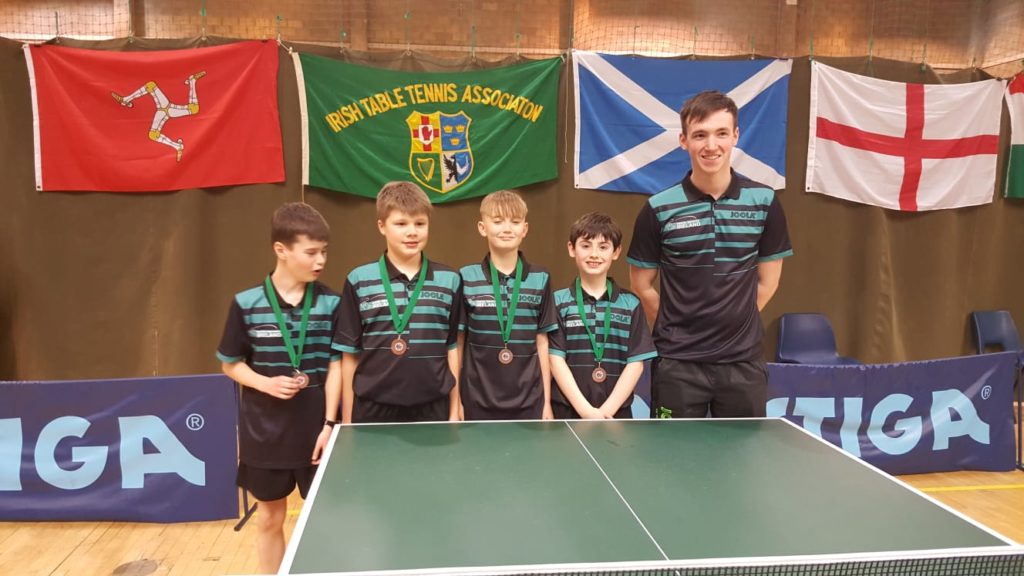 Ireland B team had good club representation with Troy Lucas, Senan Sheridan and Patrick Young all making their Irish debut alongside Ulster teammate Daniel McFaul from Lisburn! The lads played well all weekend and battled hard to beat Isle of Man 10-0, draw with Wales 5-5 and take two games of Ireland A and England! The lads managed to finish in 4th place and sit above Wales and the Isle of Man!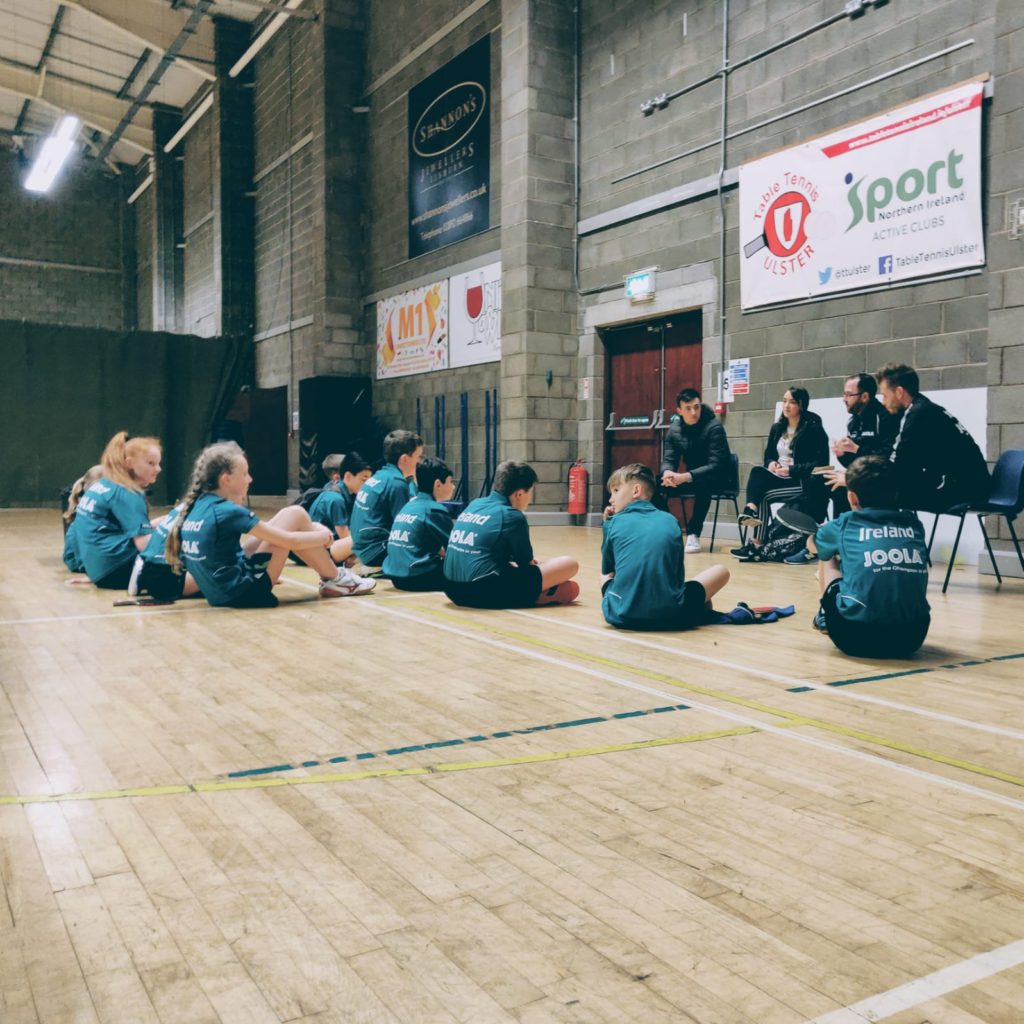 In the singles event, there were many matches in the boys and girls singles and we saw Alice, Anjali, Grace and Matthew make it through to the KO stages. Grace battled hard in the Last 16 as she took on Jessica from England and after a long match she was pipped deuce in the fifth set! Also in the last 16 unfortunately for Matthew he also bowed out in a 5th set encounter against Irish teammate Aedan McGivern 3-2!
With Alice and Anjali winning their groups they gained a BYE to the Quarterfinals. In the Quarterfinals we saw two very close games with Alice up against England's Jessica and Anjali against Scotland's Amelia. Alice playing very well all weekend, stepped up the level and took the match and book herself a guaranteed bronze medal and spot in the semifinals! Anjali was in fine form from her team Gold medal game in the team and came from 2-0 down against Scotland's Amelia to level the game 2-2 and lead the fifth set 7-5. With a run of points going for and against her the game was levelled 9-9 and the Scottish girl held her nerve and closed out the game 11-9 in the fifth! Brilliant achievement for Anjali making the last 8 in her first Primary Schools International!
Alice was the last Irish girl standing in the Girls singles event and faced tough opposition against Hannah from Jersy. Alice again showed her level and played many exciting and quality points to leave herself 2-1 down but deuce in the fourth set. Alice believing she could do it never stopped but on this occasion Hannah showed a little more experience and closed out an epic semi-final in the fourth set! Great weekend for Alice taking Gold in the girl's team and taking a Bronze medal at her first primary schools International! Great job and well done!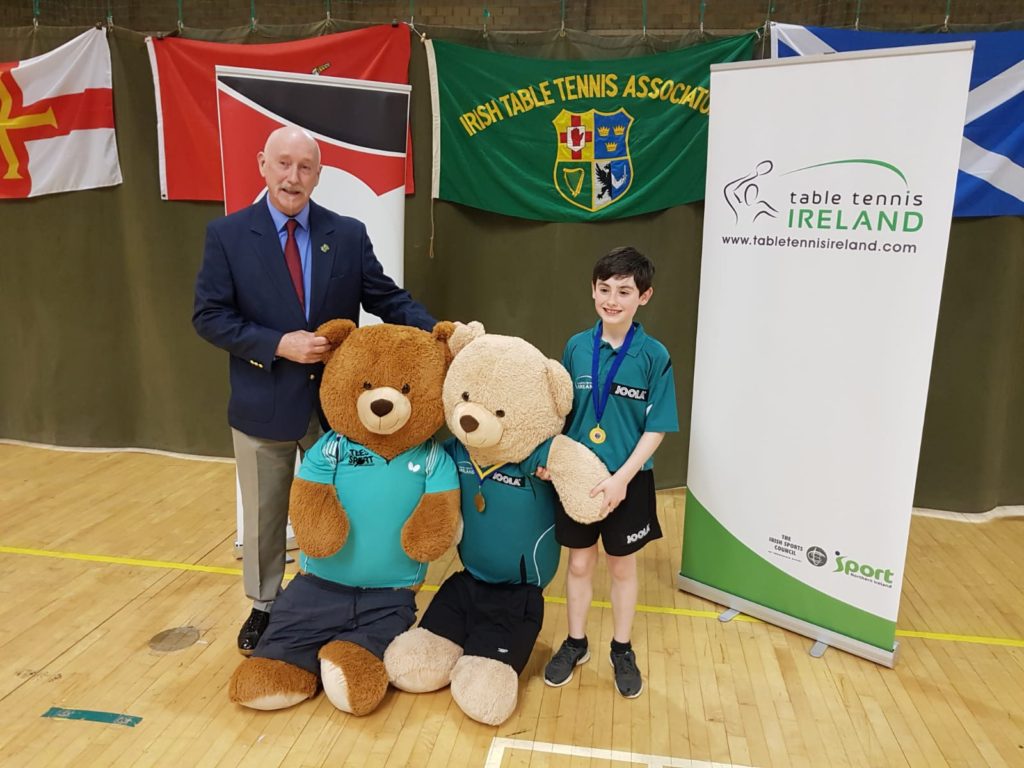 The final event of the day was the Consolation event and it saw two of Ormeau's young proteges in the final with Lily Smith up against Englands
Chloe Kay and Senan Sheridan up against Elis O'Connor Wales . Lily played very well all weekend and ramped up some nice wins in the Consolation singles only to see her trail the final 2-0 but hope there as she won an epic third set to leave the game 2-1; but it was not to be this time and she lost the fourth set and take the silver medal in the girls Consolation. Senan also had many good wins on his way to the Consolation final and he came out strong in the final taking the match 3-0! Great job from Senan on winning gold in the Consolation event!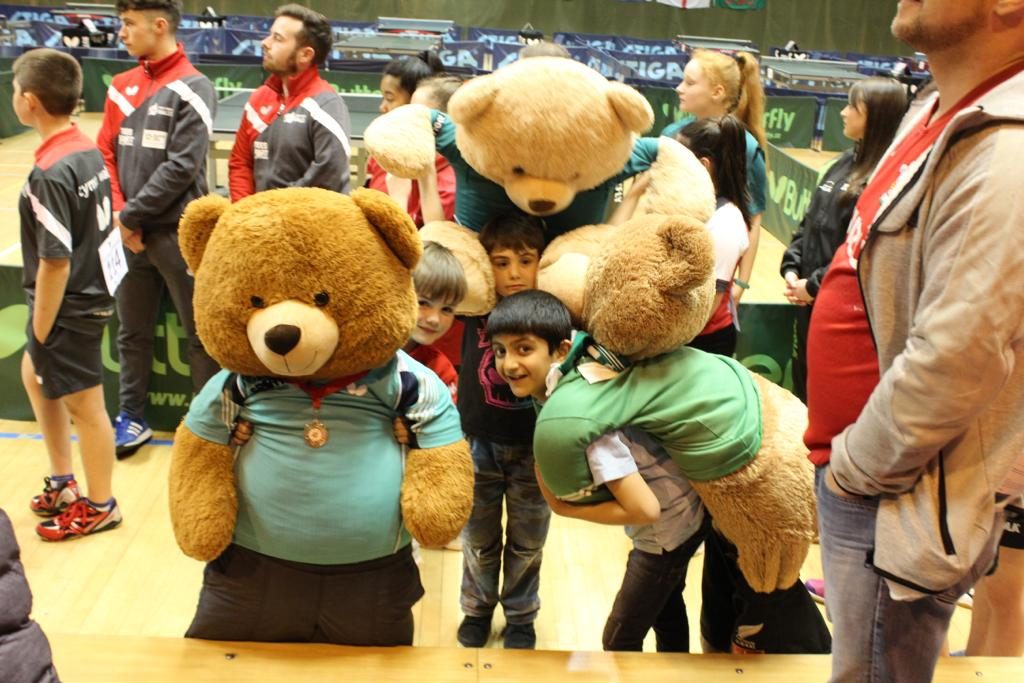 Finally thank you and congratulations to all the Irish team, coaches, parents, umpires and volunteers for an amazing weekend of Table Tennis and a spectacular showcase of young talent! Many thanks to Table Tennis Ireland and our parents who helped organise the food on Saturday for a great event!
Gold #Silver #Bronze #Future #PSI2019