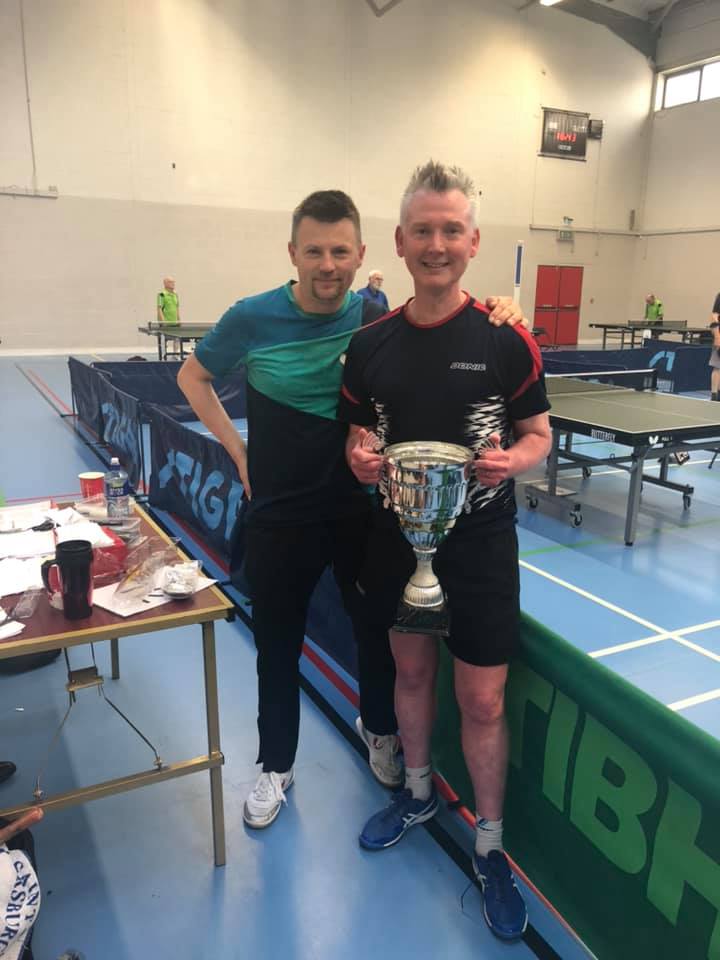 Our 3 best Veterans made the long journey to Palmerstown for the final Tournament of the season and all 3 had dreams of becoming a National Champion.
OVER 40S
Daryl Strong who was going for 12 Irish Ranking events in a row strolled through his group as usual but then amazingly dropped a set to the awkward Mark McAllister in the ¼ finals. Phil and Allen both made it through to the ¼ finals and had tough opponents in Leinster Inter Pro pair Tibor and Mackey respectively. Phil was gutted to lose to the talented Pole as he led 7/3 in the final set but Allen sneaked past Kevin 12/10 in the 5th having been 9/5 down. Allen then lost 3/1 to Tibor in the Semis but will feel this is a match that got away as he had good leads in all the 3 sets he lost.
Tibor is a very good player but when he sees Daryl on the other side of the table he knows he will have to play the match of his life to have a sniff of victory. Strongbow on the other hand has this inner confidence without being arrogant, he knows all the players fear him! Daryl's game is based on consistency, can rally all day and has the great skill of knowing where his opponent is going to hit the ball, probably even before his opponent hits it!! Daryl was composed and professional throughout and won the final 3/0 by basically making Tibor miss the last ball. #12 for Strongbow and undisputed #1 in Ireland.
OVER 50S
Allen won his tough group and was pleased to beat Dave Pemberton who is a 4 time National Over 40s champion but has had a few injuries this season. Allen then was unfortunate to meet old rival Pat McLoughlin in the ¼ finals and although he lost 3/1, again it was a match he could have won if he could take advantage of 4 point leads in all 3 sets he lost. Pat went on to win the Tournament and secure his place on the Irish Over 50 team.
FINAL POSITIONS
Daryl is obviously the undisputed # 1 Over 40s player in Ireland , Phil finished #4 and Allen # 5. Allen finished the season as the # 2 ranked player in Ireland in the Over 50s category.
All 3 players will represent Ireland in the upcoming 6 Nations in Scotland this coming September and would like to thank Keith and Gervis for all their Coaching and support!
By Allen Robson