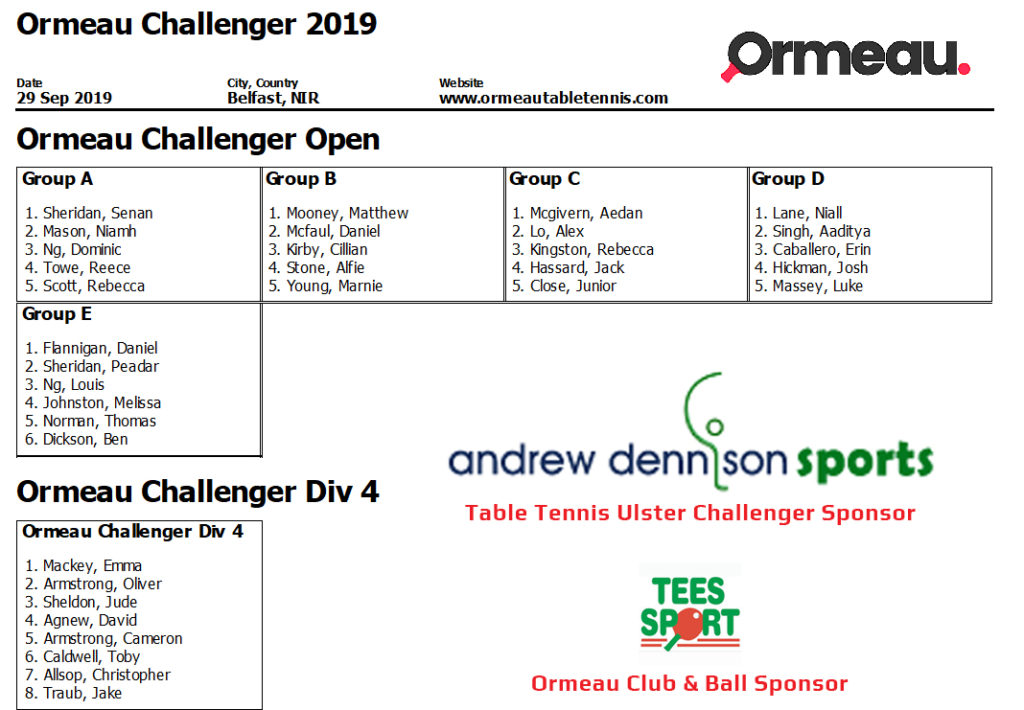 Ormeau Junior Challenger Groups
September 28, 2019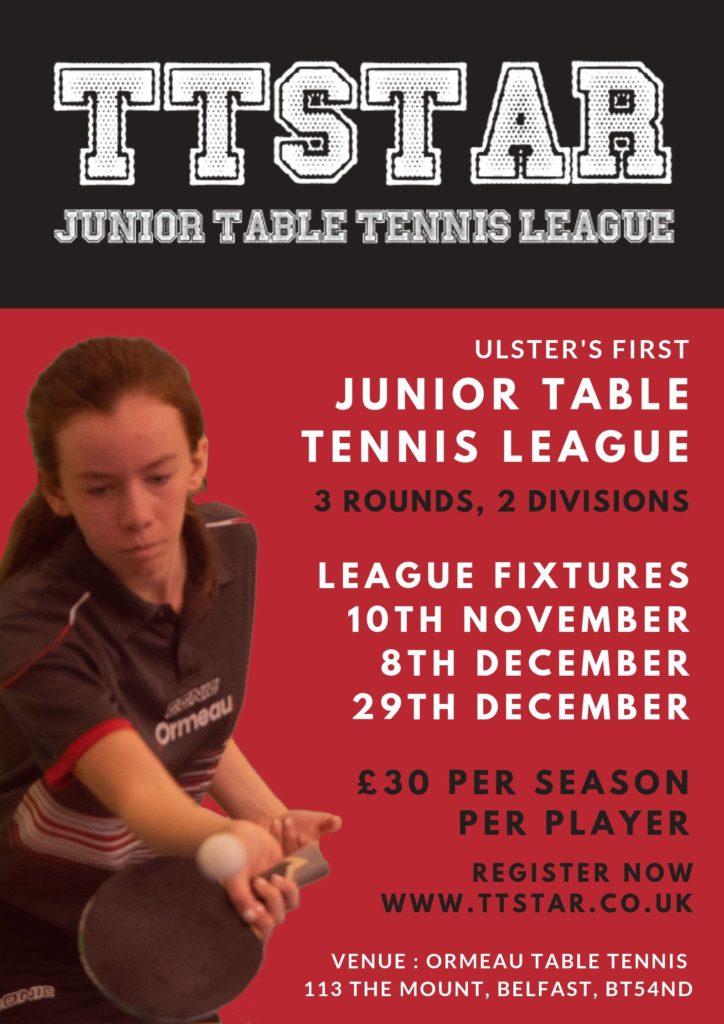 *Important Info* TT Star Junior League start date put back!
October 2, 2019
Ormeau Junior Challenger Results
Excellent day at the Ormeau Junior Challenger sponsored by Andrew Dennison Sports with 36 players battling it out over 130+ matches over 4 divisions! Full results and photos from today available on our website. Big thank you to all the players and parents who supported our event. Many thanks to Ranjit for looking after Division 4 and to Arvin and Steve for all your help during the event.
Division 1
Aedan McGivern (Craigavon)
Senan Sheridan (Ormeau)
Matthew Mooney (Ormeau) & Alex Lo (Ormeau)
Daniel Flannigan (Ormeau) & Louis NG (Glenburn)
Dominic NG (Glenburn) & Niall Lane (Loop Dublin)
Daniel McFaul (Lisburn Rapid) & Josh Hickman (Craigavon)
Division 2
Peadar Sheridan (Ormeau)
Erin Caballero (Ormeau)
Reece Towe (Ormeau) & Niamh Mason (Lisburn Rapid)
Aaditya Singh (Ormeau) & Junior Close (Ormeau)
Jack Hassard (Lisburn Rapid) & Ben Dickson (Banbridge)
Thomas Norman (Ormeau) & Alfie Stone (Ormeau)
Division 3
Rebecca Kingston (Ormeau)
Marnie Young (Glenburn)
Melissa Johnston (Glenburn)
Rebecca Scott (Ormeau)
Luke Massey (Lisburn Rapid)
Division 4
Emma Mackey (Glenburn)
David Agnew (Ormeau)
Jude Sheldon (Craigavon)
Toby Caldwell (Ormeau)
Christopher Allsop (Ormeau)
Jake Traub (Ormeau)
Oliver Armstrong (Strandtown)
Cameron Armstrong (Strandtown)
Div 1 Runner Up Senan

Aedan with Gervis

Peadar Winner Div 2

Erin Runner Up Div 2

Division 3 Winners

Division 4

Div 4 Award For Oliver with Ranjit

Div 4 Winners