Rory McIlroy was in first form at his Sullivan Upper School when his teacher Miss Maynes started asking all the children what they wanted to do or work as when they were older. Most answers were what you would expect like a Doctor or a teacher etc but when she got to 11 year old Rory he said 'I'm going to be a professional golfer'! Miss Maynes laughed and was about to ask him again before all the class shouted out 'he really is going to be a professional golfer Miss!' Someone once told me that unless lots of people are talking you up then you haven't made it and everyone was talking about this young kid from Holywood!!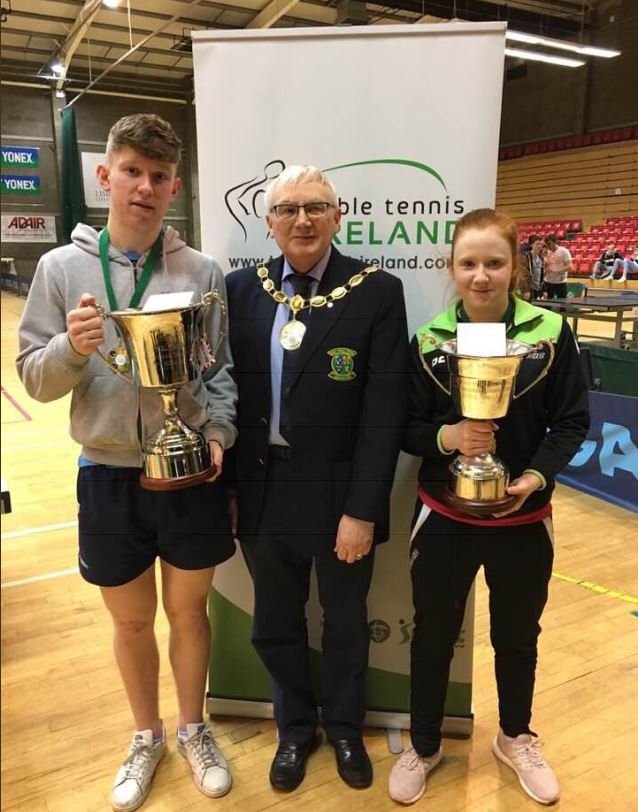 Ormeau Table Tennis Club's Owen Cathcart and Sophie Earley have been talked about in local Table Tennis circles in a similar fashion for a while now and so I guess they have made it too. Some of you might say I shouldn't compare Rory McIlroy to these two young Table Tennis stars but why not? They are all champions and winners and are world class at the sports they play. Personally, I feel that we don't shout about just how good these two players are and how incredibly proud we as a country should be of them. Lets face it, Ireland isn't really a country that is expected to produce Table Tennis players, a well known bookmaker even makes fun of us in a mainstream advertisement!!
Owen and Sophie have not become great players by chance but by being incredibly passionate about the game from when they started playing at a young age. They are both very driven individuals and have put an enormous amount of hours on and off the practice table. They also both have great superb support from their families and Coaches which is essential for any upcoming sports stars. You only get what you deserve in Sport and these two players deserve all the success they get because they have put in the time and the effort!
Both players were competing in the Senior National Table Tennis Championships at Lisburn this weekend and they had different types of pressure on their shoulders. Owen is now playing full time in Sweden and had recently reached the ¼ finals of the Swedish Junior Open beating some of Europe's top Juniors along the way and Sophie is widely regarded as the best player in Ireland even though she is only 12 years old! Sophie has also been competing in Europe and Asia and is currently ranked in the top 30 in the world for her age! Both players were expected to win their first National Titles!
Sophie made her way through to the Semi Finals without much fuss and defeated Zofia Wawrzyniak 3/0 to reach the final.
Her opponent was Mia O'Rahilly Egan who is an outstanding player and recently represented Ireland in the last world championships in Dusseldorf. These two Table Tennis warriors know each other well and have played numerous matches together including many finals. Sophie won the match 4/0 but some of the rallies were just breathtaking and although Mia will be disappointed with the result, she can be very proud of her performance. Sophie has won her first Senior title at just aged 12 and the fact that everyone expected her to do so shows you how good she is, everyone needs to take a step back and enjoy this girls brilliance and maturity!
Sophie also went on to claim three more titles in the mixed doubles with Irish international Gavin Maguire, U21 ladies and U18 girls!
Owen, like Sophie strolled into the Semis finals, defeating some very good players which included the National Under 21 Champion Tom Davis along the way. Up next was old rival Zak Wilson who has recently returned from playing full time in Germany and has one of the coolest heads in the local game. He is so relaxed he sometime switches hands mid rally but don't be fooled as he one great competitor and he will never give up! The match was high quality with some great topspin v topspin rallies and it was no surprise that the match would be determined by a 7th and final game shoot out. Owen started the set well but back came Zak and although Owen deserved the win he will probably be relieved to see his last and winning shot trickle over the net to win 11/8. Zak, like the true pro he is accepted defeat with honour!
The final was the match the majority of the packed out Lisburn hall were hoping for, Gavin Maguire (Irish #1 and current National Champion) versus the young superstar Owen Cathcart. Gavin is a strong gutsy player who prides himself on being mentally tough and doesn't know the meaning of the giving in. He is a player all the upcoming young kids should aspire to be like on the table and he can play a bit too! He has probably the best B/H in the local game to accompany his very solid F/H. Owen is built like an International Rugby Centre and has what I can only describe as an incredibly powerful game. His F/H is massive and he can hit it anywhere with great disguise, he also has a very good spin B/H and has great variation on his serves. Owen took the first two sets with some jaw dropping winners from the off, Gav pinched the 3rd, OC the 4th and Gav again showed his mettle by battling to win the 5th. Owen then seemed to relax and showed just what sort of level he is capable of by running away with the 6th set 11/4. Gav was 10/2 down in this set and he must be commended for never showing any signs of weakness, most other mere mortals would have done so! The relief on OCs face was apparent as the pressure was now off and he can call himself National Champion. Maybe he can beat former National Coach John Murphys 5? I might ring Ladbrokes for a quote!
Ormeau achieve further success with the following results:
Mens Singles – Thomas Earley Bronze
Masters Champion – Daryl Strong & Philip Wallce Runner Up
U13 Boys – Ben Watson Bronze, Matthew Mooney 5th, Senan Sheridan Band 1 Winner & Alex Lo Band 1 Runner Up
U13 Girls – Anjali Singh Bronze
U15 Boys Doubles – Max Skelton & Jonathan Mooney Silver
U15 Boys Band 1 Runner Up Joel Smith
U15 Girls Lucy McIvor Silver
U15 Girls Doubles – Lucy McIvor & Anna Kelly Silver
U15 Girls Band 1 Anna Kelly Winner
U18 Boys Band 1 Jonathan Mooney Winner Joel Smith Runner Up
U18 Girls Band 1 Lucy McIvor Winner