Sophie & Jonathan Excel at 2019 ITTF Junior Circuit Premium, Italy Junior & Cadet Open
The Irish Table Tennis team lead by Ormeau coach Gervis consisted of a cadet boys (Jonathan & Dillon) and girls team (Sophie, Silke & Prevesha) travelled to Bell'Italia EFA Village, Italy last weekend for a premium ITTF cadet event.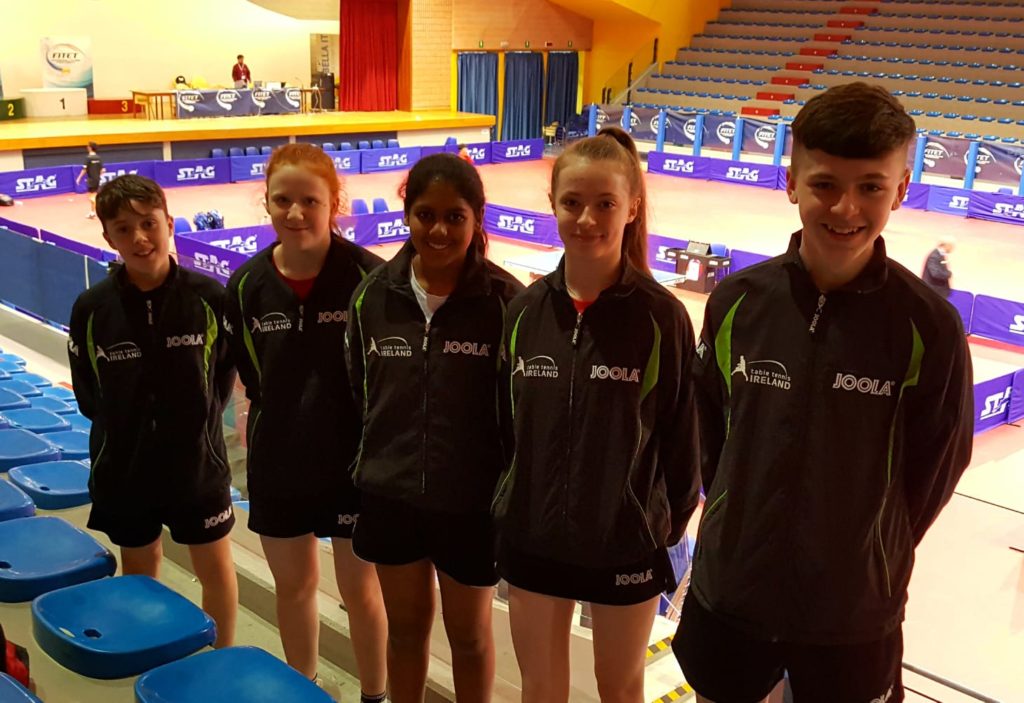 Sophie teamed up with Silke and Pravesha to play in the girl's cadet team event and they played against the Spanish and Chinese national teams. The first match in the team event was against the Spanish National team and Sophie did not disappoint winning her both singles 3-0 against Sastre and 3-2 against Sanchez. Sastre and Sanchez proved strong and overcame Silke 3-0 in both matches leaving the game coming down to the doubles. Sophie and Silke battled hard and combined well as a team to see them level the doubles 2-2 but on this occasion, it was not to be for the Irish pair as they were pipped 11-8 in the fifth set and lost the match 3-2! Next up and to stay in the team event was the world-class Chinese cadet girls national team! Not totally overpowered Sophie battled hard and took 9 points of the best in the world in the third set losing out to Zhang 3-0. Pravesha lost her singles to Kuai 3-0 and she paired up with Sophie in the doubles but no joy as they lost the match 3-0. Great experience for the girls to take on the best in the world and showed they were competitive in many parts of the match!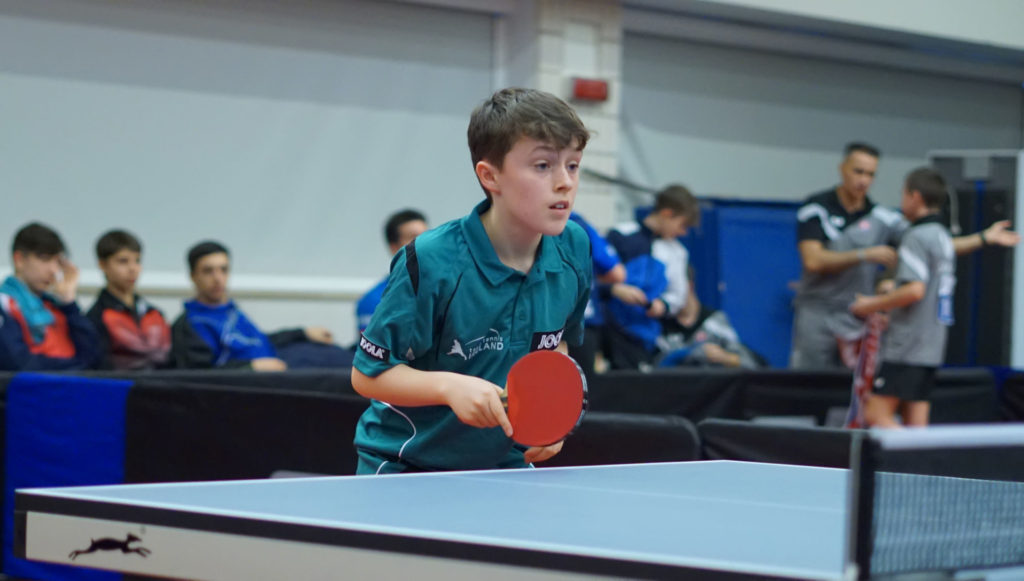 Jonathan teamed up with UCD's Dillon in the team event to take on Poland, Mixed Team and Italy B in the group stages. First, up for the boys was a tough opener against Poland where they lost 3-0 but both boys took sets in the singles with Jonathan 1-0 and 7-3 up in the second set put up a great fight against Polish number 1! Next up for the boys was a mixed team with Singapore's Quek World No 13 and San Marino's Morri. Dillon started the game well taking a convincing 3-0 win over Morri, Ireland 1-0. Jonathan next up against one of the worlds best U13s Izaac Quek from Singapore where he put in a good fight but only to see a 3-0 loss and the game was even 1-1. Jonathan and Dillon teamed up in the doubles and played very well to bring the game to the fifth set but wasn't to be as they lost 11-6 and go down 2-1. The final game in the team event was Dillon up against Izaac and again the young Singapore boy proved very strong winning 3-0 and the boys lost out 3-1. The final game in the team event was against Italy B and the boys looking to finish the team event on a high were fired up to get their first win and this came in good style with a 3-0 win with Jonathan winning his singles 3-2 against Spagnolo, Dillon taking his game 3-1 against Giai and combining to win the doubles 3-0!
Sophie following her good form in the team event started her campaign in the cadet girls singles with a group consisting of Pinto (Portugal) and Stanglini (Italy). The first game was against Sophie's doubles teammate Pinto and this was a one-sided affair with Sophie taking the game 3-0. The second game in the group was a tricky game against a good girl Stanglini from Italy but again Sophie showed her class taking this game 3-1. Sophie progressing through her groups awaited her draw and was very unlucky to meet one of the top Chinese girls again in the first round of the main event and on the day the Chinese girl Zhang proved too strong and took a 3-0 win. Great experience for Sophie to play the Chinese girls twice and showed in many points she was very competitive and very difficult to compete with girls who are training professionally from a very young age!
Jonathan was in a group with Ramljak World No.97 (Bosnia) and Boonyaprapa World No.149 (England). First, up for Jonathan was the group seed Ramljak and Jonathan really stepped it up showing a great mix of defence and attack to overcome the group seed 3-1 and give himself a chance of qualification if he could overcome the English No1 cadet Boonyaprapa! Jonathan fired up from his first win in the singles group was up for this game against the best cadet in England and his defensive skills were on fire as he took the first two sets leading 2-0! The English player wasn't finished as he took the third set 11-2 and now Jonathan knew he was in a battle and put a big focus into the fourth set and won 11-5 and qualify first in his group in his first ITTF pro tour! In the knockout, last 64 Jonathan drew Kosmal from Poland who he already played in the team. Gaining good knowledge of this player from the team event it was a great match with Jonathan again mixing his defence with the attack to overcome this quality World No.50 Polish player 3-2 and make the last 32 stages! Jonathan lined himself up against Movileanu World No.16 (Romania) and this was a difficult encounter as the Romanian player came in well prepared and played very clever giving Jonathan not so many chances to get his strong defence in and took the game 3-0. Great result for Jonathan in his first ITTF event and great to see two massive Top 100 wins!
A very positive event for both Sophie and Jonatan and they showed their class with Sophie only losing matches to the Chinese national team players and Jonathan making the Last 32!