Ormeau joint top with Mid Ulster @ Junior British League
Ormeau for the first time entered a team in the Junior British League with four boys – James, Max, Julian and Jonny all competing in Divison 1! Three Ormeau girls – Lucy, Anna and Anjali also competed for Ulster in Division 2 of the girls league.
The boy's team started against a strong Mid-Ulster team of Kristijonas, Tom and Joe with a 3-3 draw. Ormeau had big chances to win the match leading 3-1 but Max and Jonny were unable to convert against Joe and Tom which left the game in a draw. James Skelton was the player in form this game as he took both singles against Kritijonas and Tom! Next up for the boys was a strong game against London Academy, again James done the business taking two matches including a great win over Ludwig Ebenius 3-2, 15-13 in the fifth! Jonny also won a match against Daniel Oluwamayowa to leave the game at 3-3 and another draw for Team Ormeau. The boy's finished on a high on Saturday with a strong 6-0 win over Fusion. Today the boys lifted their game to win 6-0 over St Marys and then finish the day with a 4-2 win over Sussex Blades!
Overall an excellent weekend for the lads as they sit with joint points at the top with Mid Ulster and all to play for to get promoted in March! The Ormeau Boys team also won the prestigious "Team of the Weekend" with James Skelton finishing the weekend as No.1 rated player in Division 1 followed by teammate Jonny Mooney at No.2 on the list!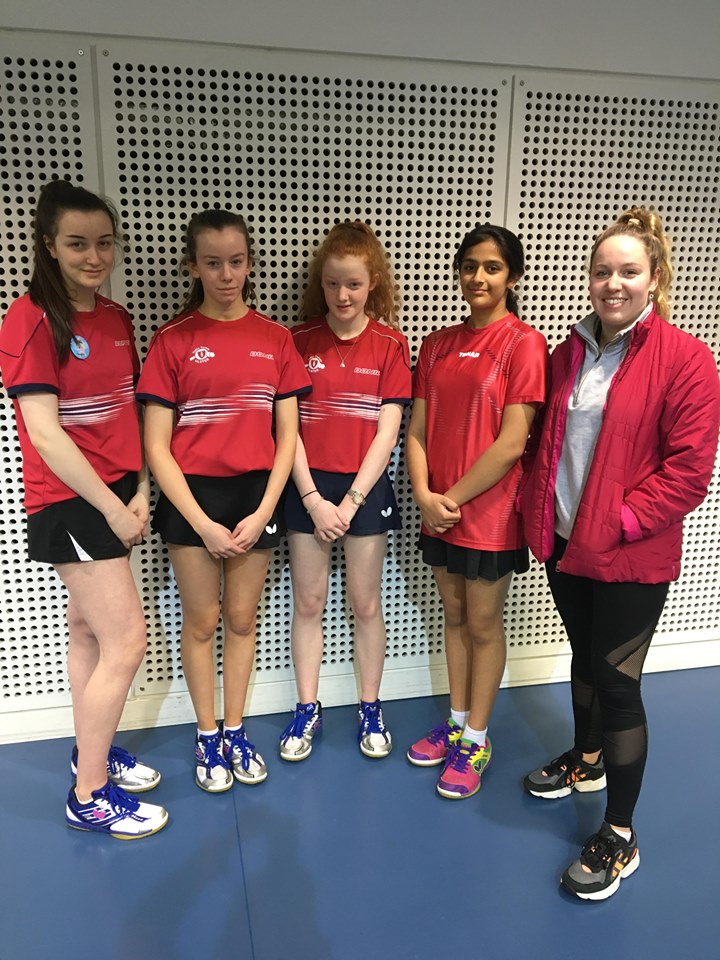 Ulster Girls team consisted of three Ormeau girls – Anna, Lucy and Anjali alongside teammate Nicole Larmour along with coach Erin Thompson. The girls had a great day yesterday winning their first game 4-2 over Bishop Ackland with Lucy taking two singles with Anna and Nicole both taking one match each. Next match was against Byng Hall Girls and they won this game again in convincing style 5-1 with Lucy and Anna taking two matches and Anjali winning against their No.3 3-0 to leave the girls with a second win of the competition. Last game yesterday was against Halton and they finished with a 6-0 clean sweep and lead the table after day 1. Today was a much tougher affair against Brighton and Greenhouse but the girls battled hard but it wasn't enough as they lost both matches. In the first game this morning it was Ulster Vs Brighton and after steadying the ship going 3-0 down both Anna and Lucy combined to win their two matches to leave the score 4-2. The final match of the weekend for the girl was against Londons Greenhouse which they lost 5-1 with Anna Kelly taking the only game 3-0 against Evelyn Price. The girls now sit in third place and will be chasing for improvements come the second round in March!
Overall an excellent weekend for the Ormeau players and thanks to coaches Phil Jamison and Erin Thompson for looking after the teams! Now looking forward to improving for the final weekend of JBL in March!
Full results available here :
Boys : https://tte.tournamentsoftware.com/league/270A3C4E-1A4F-454C-AC7A-7A588F31DA50/draw/54
Girls : https://tte.tournamentsoftware.com/league/270A3C4E-1A4F-454C-AC7A-7A588F31DA50/draw/63