VANRATH Corporate Table Tennis League Final Round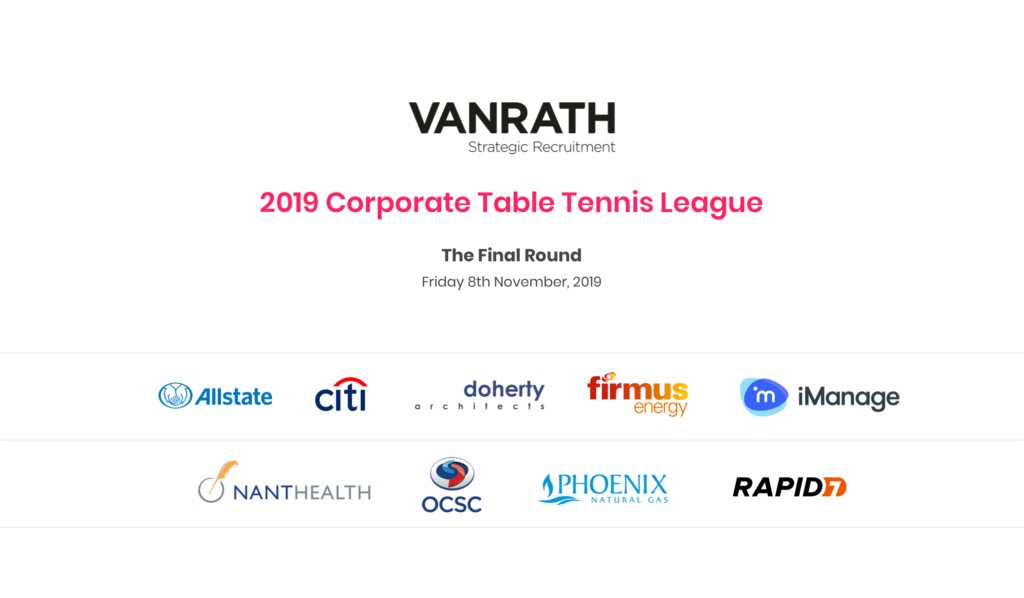 Friday 8th November will see the final round of the 2019 VANRATH Corporate Table Tennis League.
At the top of the table there will be a crucial showdown between Citi A and Allstate that will decide which corporate team goes back to the office having been crowned the 2019 VANRATH Corporate Table Tennis League winners.
Citi A currently sit 200 points ahead of Allstate, although Allstate have a game in hand (versus Firmus Energy) before the final showdown, meaning they stand a chance of leapfrogging Citi A by up to 100 points. This is shaping up to be a thriller that will likely come down to the wire!
OCSC/Doherty Architects look set to remain in a comfortable third place, but this could all change with an upset in the middle of the table, where there is everything to play for as only a few hundred points separate NantHealth, Phoenix Gas, Rapid 7 and Citi B, with the latter two teams meeting each other in the final round.
The bottom end of the table recently saw iManage A move above Firmus, although Firmus now have a game in hand (versus Allstate). iManage A will be keen to hold onto this position when they come up against Firmus in the final round and not slip back down a place alongside the iManage B team who will face NantHealth in the final round.
Coming to the close of the second year of the Corporate Table Tennis League we wish to thank VANRATH for their continued support. The league has again proved to be a great success and next year promises to be even more popular with the format being revamped to accommodate several more teams coming on board. We can't wait to tell you more!