4 Ormeau players made the journey for the penultimate Masters event in Palmerstown. There are 7 Tournaments in the annual calendar with each players 6 best results counting towards a final ranking. The top 3 players in each category are then picked to represent Ireland in a team and individual event later in the year.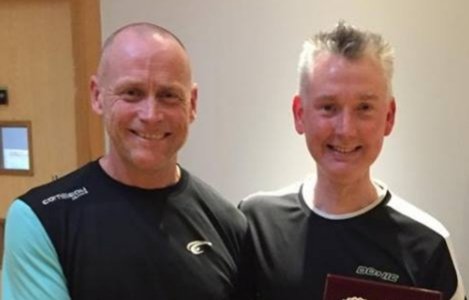 OVER 40S
Daryl Strong has won the last 13 Irish ranking events he has entered but never seems to lack motivation, he is the Irish Masters version of Rafa Nadal on clay! Daryl won a tough group without dropping a set and went on to beat Tibor in the 1/4s 3/0. Up next was club mate 'Fast' Phil Wallace who has probably the most ferocious F/H in Ireland. Phil had beaten Brian Devereux in the 1/4s 3/1 and was feeling confident. Phil won the first and the third, Daryl the second and he sneaked the fourth 12/10 in a nail biter. Daryl then ruthlessly won the decider 11/0 which actually shows the respect he has for his Ulster and Irish team mate as if anyone can shell 12 past you in quick time its Fast Phil. Allen Robson lost in 4 tight sets to Kevin Mackey in the 1/4 s and Daryl went on to clinch the title by beating Kevin 3/0 in the final. 14 in a row for 'Strongbow'!
OVER 50S
Allen Robson was seeded 2 for the event as his 4 previously played Tournaments had resulted in 3 finals and a semi. Allen got through his group unscathed and was straight through to the 1/4s where he met Paul Gallagher. Paul had defeated another chopper in Sean McAnaney in the last 16 and a shout out must be given to Ormeau's Brendan Poppleston who took him to 5 sets in his group. Allen won his 1/4s match 3/1 but looked edgy and it took a long chat with fellow chopper Sean to make him realise you can't play good level defensive Table Tennis stressed! Allen looked a different player and took out old rival Mackey 3/1 in the semis and then went on to grind a hard fought 3/2 win over Dave Pender to take his first Irish ranking victory.
Daryl, Phil and Allen have now assured their places on the Irish team for their age categories and will compete in the 6 nations in Scotland in September.