Owen finishes strong in French Junior Open, Metz
Owen Cathcart travelled himself to Metz, France last week to meet up with his international mixed team consisting of Borgar Haug (Norway) & Alex Naumi (Finland) under the guidance of Norwegian coach Maciej Pietkiewicz.
In the team event, the boys started against a mixed team from Slovakia/Ukraine with the team winning 3-0 and Owen taking his singles against KIBKA (Ukraine) 3-0. Next up for the lads was a team from Luxembourg and Brazil with Owen again winning his singles comfortably 3-0 against BJURSTORM and the team taking a 3-0 win also! The final match of the group stages and to proceed to the Quarterfinal was against the seeded USA team. Bogar, Alex and Owen needed to find top form to beat this team with Bogar beating ALGUETTI 3-1 and leading 1-0 in the match. Alex was next up against KUMAR but went down 3-1 leaving the game 1-1 with Owen to play LIU. Owen found great form in the game and took it comfortably 3-0 to give the lads a 2-1 lead! Borgar faced KUMAR and it wasn't to be going down 3-0 leaving Alex to do the business and take the final game 3-1 against ALGUETTI!!!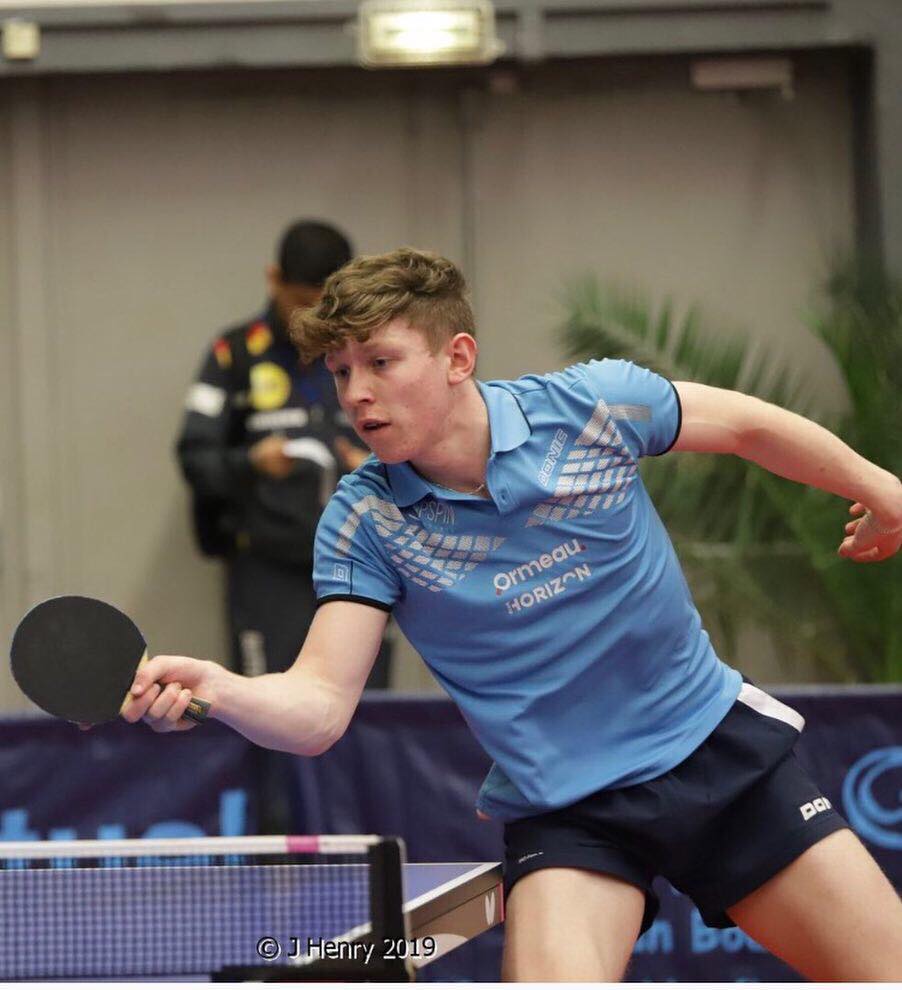 After an epic with USA the boys proceeded into the Quarter Finals of the ITTF French Junior Open Team competition against the Polish national team! Alex started against KULCZYCKI but couldn't find form in the first game and lost 3-0; leaving Borgar facing KUBIK. Borgar started very well and was in control with a 2-1 lead only to see the next two sets disappear and take a hard loss 11-9 in the fifth set! The game now on a knife-edge left Owen to turn up the heat against ZANDECKI; with some great attacking play this time Owen came up with a 3-1 performance and give the lads some hope! With the team score 2-1 down, it was up to Borgar against their No1 KULCZYCKI and again it was a tough ask and the young Norwegian but battled hard to a 3-0 defeat! Great effort from Owen and his Scandinavian teammates almost reaching another ITTF team medal finish!
Owen also entered the doubles with long term doubles partner Borgar and faced Ukranian pair MUL/ZAVADA in round 1 and this was a strong display as the lads took the game 3-0 with scores of 3,4 & 5! Next up in the Last 32 it was HAMACHE/DORCESCU from France and the proved too strong winning 3-0 but the lads had a great sniff in the second game loosing 13-11!
Owen started the singles in great style winning 3-0 against Swiss chopper Stoll, then 3-1 against Halmstad teammate THIMON (Recently getting to quarters of Swedish Open) and finally a solid 3-0 win over Germany's HOLLO.
Proceeding into the KO stages Owen faced POP from Romania and this proved to be a difficult affair with Owen winning the second and forth sets to level the match 2-2. Owen continued to battle hard but on this occasion, the Romanian proved strong and took the final two sets 11-8 and 12-10!
Overall a successful event for Owen and proving that continually working hard on his game in Sweden is helping him produce results against the worlds best Junior boys! We would like to congratulate Owen and a successful event and wish him all the best in the upcoming World Championships in Budapest, Hungary!